You can easily allocate specific permissions to each person using Store Commander within your company and even external providers such as SEO experts, photographers, etc.
Options in Store Commander Users Permissions interface allow you to restrict or allow access to various menus, grids and actions within Store Commander.
For instance, you can grant only access to the Delivery view to the person in charge of the logistics.
Here's an introduction video.
The Users Permissions interface is accessible from Tools > Manage Users Permissions
Profiles and associated employees are displayed on the left-hand-side column.
The central panel displays the list of all Store Commander's elements which you can allow or restrict access to, for each employee individually.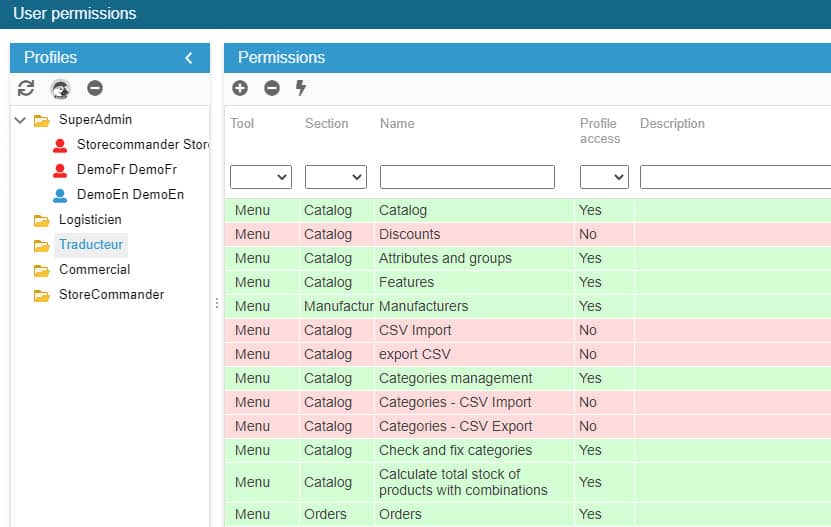 Profiles and employees displayed on the left-hand-side column exist in the PrestaShop backoffice. If you need to add another profile/employee, you would then need to create them via the Prestashop backoffice (Administration) beforehand. Without forgetting to grant access to Store Commander in PrestaShop > Administration > Profile > Logistician (for instance):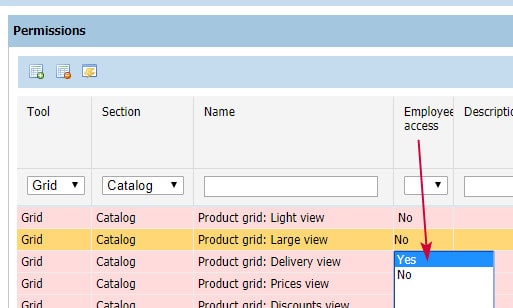 Continuing with the example of the Commercial profile, let's give him access to the Delivery view only.
Once you have selected his name on the left-hand-side column, all access is permitted and we are going to set the access (YES/NO) in the central panel. Here it will be YES for the Delivery view.
Use the mass-selection icon

on the toolbar (to select all), and then click on the 'remove access' icon

. All access is unauthorized (NO).
To grant access to the Delivery view, use the filtering tools to then set YES from the drop-down menu for 'Product grid: Delivery view':
This is it. When the Commercial employee will log into Store Commander, he will only have access to this view: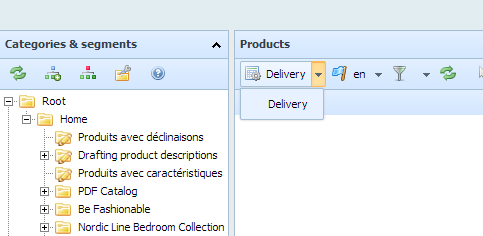 Managing Users permissions in Multistore mode
If you need some of your employees to only access specific stores, you will need to select these shops within their profile in PrestaShop > Administration > Employees > Modify
---