Store Commander's Segmentation add-on allows you to create three types of segments: manual and automatic as included in the add-on and and also customized upon request and quotation submitted to us.
This article explains how to create a manual segment.
Please refer to this article to create an automatic segment.
From the Segment management panel, click on the
icon on the toolbar to create your segment.
The segment is then added.
Please note that a new segment will be added to a selected segment (parent) as a 'child' segment.

Rename the new segment by editing the cell with a double-click.
In this example, we are creating a segment for products without meta description so that we can optimize the SEO of our store.
We name the segment SEO, located in its parent folder 'Updates.

We now need to associate the interface(s) in which the segment will be displayed and used.
To do so, select the interface(s) in the Properties panel on the right hand-side. Hit CTRL to select multiple interfaces.
Validate with the

icon.

You have the possibility to add a description to your segment in the same panel.

The new segment is now created, and displayed in the interface(s) previously associated.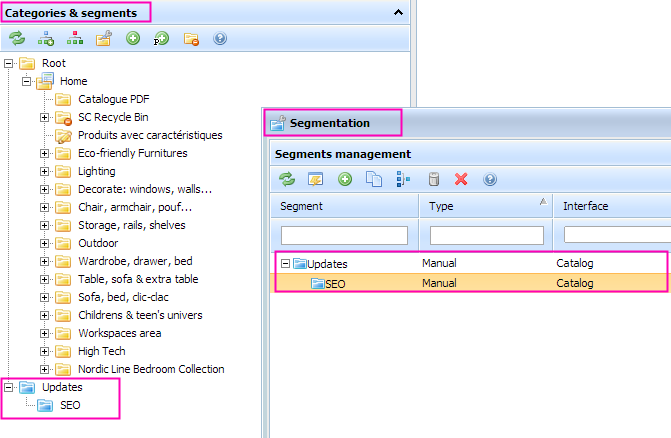 ********
Download our Segmentation Users Guide for more information.