This article explains everything, or just about, on FixMyPrestaShop SC addon.
Installation
FixMyPrestaShop is included in all our subscription plans, therefore once you have installed Store Commander and validated your license key, FixMyPrestaShop will automatically activated and accessible from Tools menu.
​
What is the purpose of the module?
FixMyPrestaShop checks the integrity of various tables in your database in order to detect any problems.
When a problem is found in a table, the cell in the 'Results' column will display 'Error' on a red background.
At the very same time, a tab opens up in the right handside panel with the elements in error.



What controls are there?
The module checks numerous tables. Each control is detailed: its name in the column 'Control' and its definition in the column 'Description'.
Starting the verification
To start the verification, simply hit the start icon

located on the toolbar (Store Commander version) or on the 'start scan' button (PrestaShop version).
The add-on version allows you to run the checks on one or multiple controls of your choice simply by selecting them in the list.
You can also choose the tables to run the scan onto by selecting a specific type in the drop-down menu of 'Section' column, or even by using the filtering option, for instance by typing 'missing' to check only 'missing' data in the 'Controls' filter box.
Otherwise, simply click on the start icon to run the verification on all controls.
Do note that running a verification is safe as it does not modify anything in your database whatsoever. The module will provide you with the fix to apply on each error found, that you will apply manually.
Understanding and applying fixes
For each error found, a corresponding tab opens up in the right handside panel.
Each tab will display the elements that reported the error, and the tool(s) to fix it will be available on the toolbar.
You will know what the fix action is by hovering over the icon with your mouse. In the below example, to fix the error found is to delete the ghost products listed in the panel. You will then need to select them (using the mass-selection icon

) and click on the available option, in this instance

to delete the products.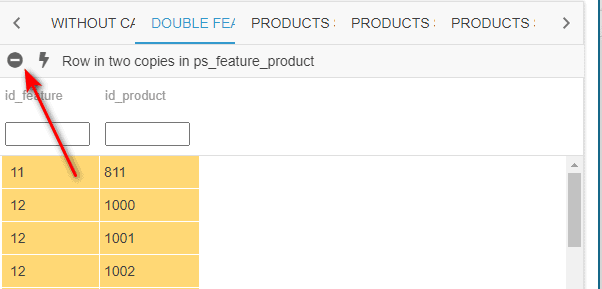 Below are two other examples of what other the fixes might be:


When the fix is applied, FixMyPrestaShop automatically runs the verification on the corresponding control.
Do not hesitate to contact your webmaster if you are unsure about the error(s) found and/or the fix to apply.
What to do if the fix applied does not solve the error?
If the error remains after you've applied the fix, then please contact our support team using our contact form.
FixMyPrestaShop is constantly evolving. Should FixMyPrestaShop not be able to fix problems detected, we will be able to add the necessary tools to fix these issues on your database. This would then be beneficial to all other FixMyPrestaShop users.
---
Watch FixMyPrestaShop in action in this video