---
If you are using Sc Multiple Features, two additional fields are integrated to Sc CSV import tool so that various features of a same group can be associated to products in bulk.
- feature (add)
- feature (remove)

Your CSV file will include a column per feature group, and the corresponding cells will indicate the values (feature names), separated by commas, as in the below example.

When using Multiple Features, columns of your CSV files used for features will always be mapped with the field called 'feature (add)', even if there is just one feature to associate (like Origin below):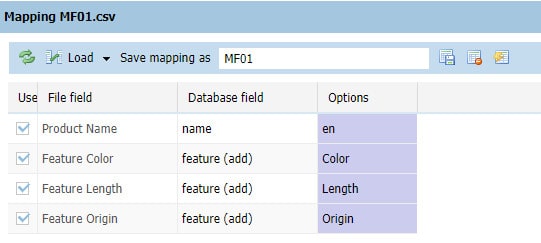 Please note that features indicated in your CSV file that do not exist in your catalog will be automatically created during the import process when the corresponding option is ticked in your import configuration:

You can also manage your multiple features directly in Sc interface - please refer to the article mentioned below for further information.

---