Store Commander allows you to re-think the way you organize your store management.
With Store Commander, you can use hidden categories (i.e. hidden to your store visitors) to reorganize workflows more effectively internally to your store management team.
Indeed you can create hidden categories to store items in the same way as with products, easily moving and sorting them using the drag and drop feature of Store Commander.

The hidden category is materialized by this icon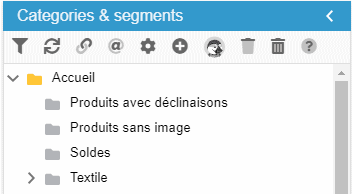 Here is a concrete example. Say you want to create the following categories to make your daily workflow more effective and speed up processes:

* Product specification sheets to be reviewed
* Images awaiting allocation
* Unfinished descriptions
* Pending combinations
* Products on order from supplier xxx
* Products on special offer from xxx to yyy
* ...
When one person finishes a task he/she drags and drops files into the next category or sub-category and the person responsible for the next task starts working on it.
These are just a few ideas for organizing your workflow; you can also create your own tools for managing your e-store and improving productivity.
Take a little time to explore and tweak the application to suit your needs; you'll save a whole lot of time in the long run!
---