The PDF Catalog module version 2.0 is introducing the creation of catalogs targeting specific customers groups. You can therefore create for instance catalogs with discounted prices for your loyal customers, your resellers, or differentiate products catalogs for B2B and B2C customers.
If you offer products targeted at works councils, you can also customize your catalogs for them.
You will first need to create the customer group in Prestashop Backoffice.
From Prestashop Backoffice > Customers > Groups : create a new group associating the discount % for this group





 
From Prestashop Backoffice > Customers: create a new customer associating the group you have just created in step 1






 
From Prestashop Backoffice > Catalog > Categories: edit the categories which will benefit from the discount for the newly created customer group




 
You can now select the customer group in the setup of your PDF catalog: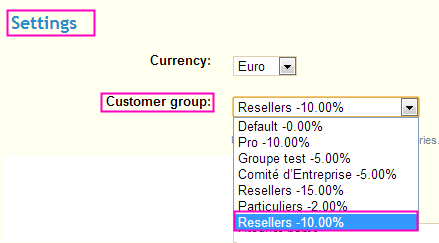 Your PDF catalog will display the products of the selected categories with the 10% discount that you configured for this customer group.