You could cut out product images directly in Sc interface using the dedicated tool, accessible in the image panel: the red ruby icon on the toolbar

Select the image and hit the ruby to open up the cutout tool interface.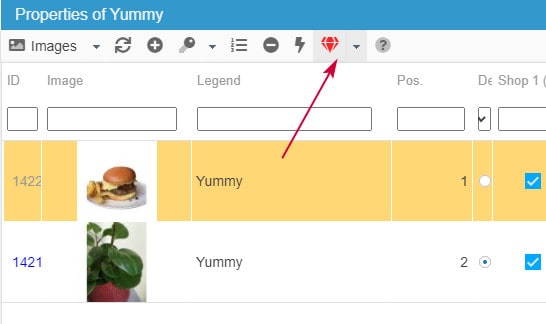 You already know the standard process: uploading photos within a image cutout software and uploading the new images back to your store at the right place... long and tedious!
With the new tool available in Store Commander, you just need to draw 2 lines on the image, and that's done! The image has been cutout in real time on its products page: a huge time saver!
How does it work?
Once you've added a few Fizz in your account (Fizz is Store Commander internal currency), select the image you want to work on. A new interface will popup where you can in just a few clicks cut out the image, choose a background color, add shadow...


How can I add Fizz to my account?
Your wallet will be debited of 0.20 Fizz (about 0.20 Euros) once you have validated the image cut out.
This is the most complete, fast and cheapest cutting out tool in the e-commerce world!
The image clipping feature also contains tools to rotate an image 90° for example (left or right rotation) but also to make a symmetry, a cropping, an addition of margin, change the background color, center the object on the photo...
---