Nouveau nom, nouveau lieu et nouvelle date ! Le PSD Paris —anciennement PrestaShop Day— revêt ses plus beaux atours et investit un lieu à la hauteur de ses ambitions en plein cœur de Paris, le Palais Brongniart.
Point d'orgue de l'année, ce rendez-vous annuel de l'e-commerce devenu incontournable rassemble tous les acteurs clés de l'écosystème PrestaShop.
E-marchands débutants ou confirmés, agences marketing, web et design, partenaires solutions ou éditeurs de modules, plongez en immersion le temps d'une journée organisée par le leader en France et l'un des leaders mondiaux des plateformes e-commerce, PrestaShop !
Venez échanger, apprendre, networker, décrypter les tendances et évolutions du secteur.
De 9h à 18h, la journée sera rythmée au gré des conférences, ateliers, Audits, Espace Développeurs et Pitch Sessions autour du thème « Start and Scale ». De quoi offrir à chaque visiteur en quête de réponses et d'inspirations un programme sur-mesure !
Parmi les conférences de l'espace Auditorium, d'une capacité de plus de 600 personnes, de grandes rencontres sont à souligner :
9h00 : Alexandre Eruimy, CEO @PrestaShop, donnera le coup d'envoi de la journée sur le thème « Start and Scale » lors du Keynote PrestaShop

11h30 : Loïc de Saint Andrieu, @Google France Mobile Evangelist, interviendra sur « Le mobile au centre de la stratégie omnicanale – au service de l'expérience client »

14h30 : Gilles Babinet, Vice-Président @CNNum, s'interrogera sur « Quelles sont les enjeux des entreprises tech européennes ? ».

Cette 5ème édition du PSD Paris fait la part belle aux nouveautés, en particulier les « Pitch Sessions », une des 5 zones de prises de paroles de cette journée.
C'est dans ce cadre notamment que Store Commander, expert PrestaShop depuis 2009, interviendra. Son fondateur, Vincent Millet, vous démontrera à cette occasion à quel point Store Commander peut être une solution intuitive et ergonomique, simple et complémentaire. La Pitch Session qu'il animera sera ainsi axée sur un cas concret : « Comment se simplifier la vie lors d'une migration PrestaShop 1.7 ? ». Ajouter à mon agenda
Vous recherchez gain de temps et productivité ? Store Commander l'a bien compris en développant toute une gamme de modules PrestaShop pour gérer et mettre à jour les données d'un site marchand plus rapidement. Le temps est le nerf de la guerre ! La vitesse des systèmes développés par Store Commander révolutionne le back-office PrestaShop : c'est LA solution de référence pour optimiser l'usage quotidien de votre back-office PrestaShop.
Tout au long de la journée, Store Commander vous accueillera et partagera son expertise et ses expériences, ses solutions et ses retours d'utilisateurs.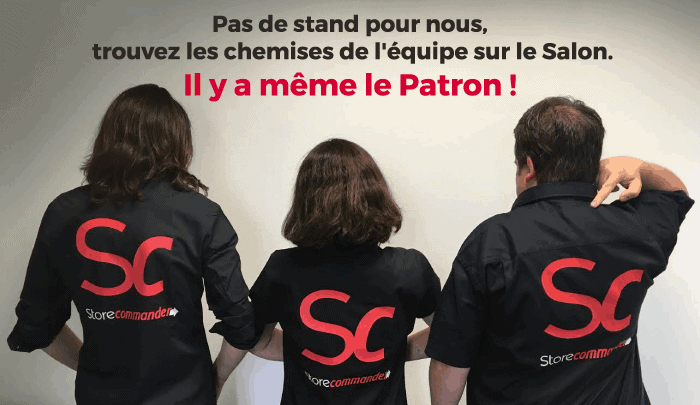 L'événement se clôturera sur une note conviviale autour d'un cocktail jusqu'à 21h00.
Tous à vos agendas !
Cliquez ici pour prendre votre billet : Bénéficiez de -50% avec le code : PSDPARISSTORECOMMANDER Merci qui ?
PSD Paris – 5ème édition • 4 juin 2019 de 9h00 à 21h00
Palais Brongniart – Place de la Bourse, 75002 Paris