---
The 'Discounts' view in Store Commander allows you to setup promotions on your products very quickly, by applying a reduction amount or a percentage, as well as start and end dates, or even unlimited dates.
Indeed, there is a dedicated column to use a discount amount and one to setup a discount percentage.

You simply need to enter the value in the corresponding cell on the concerned product, and choose your start and end dates.
Note that you can also decide of the exact time you want your discounts to start/end, by selecting the hour and minute in the calendar before selecting the day to then validate.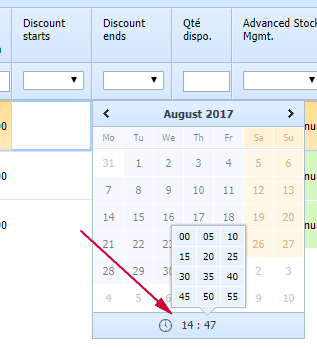 To apply the same discount on multiple other products, use the copy/paste option in each column.
With your mouse in the 'reduction amount' column on the first product you configured, right click and select 'copy'.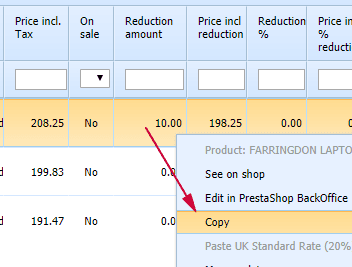 You then need to select the other products - in this example we will hit the mass-selection icon

to select all products displayed in the panel - and right click again to select 'paste'.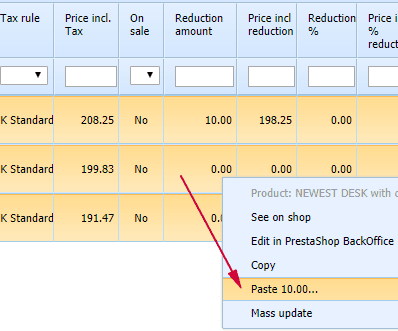 The discount amount is now applied to all products you previously selected.
Repeat the same copy/paste steps with the start and end dates.
And there you are, in just a few minutes, you have setup your discounts on dozens, hundreds of products!
Using the CSV Import tool
If you have thousands of products you need to setup a discount onto, using the CSV import tool will be even faster.
First run a CSV export that will include the following database fields: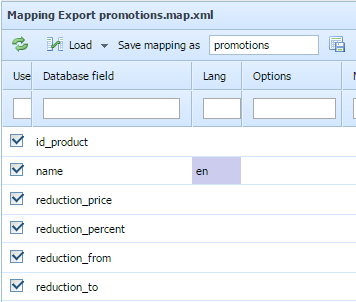 In the CSV file exported, first modify the format of the dates columns to 'Text', because some spreadsheet applications automatically convert dates format. The correct format to use is YYYY-MM-DD hh:mm:ss.
Then add the dates and discount amount and/or percentage on all the products.

Save the changes and load the file in the CSV import window in Store Commander.
Use the 'load fields by name' to fill the mapping automatically, and untick 'name' (database field that you will not modifiy).

The identification options will be:

And start importing!
Store Commander also includes a Specific Prices grid allowing you to setup discounted prices on dozens or hundreds of products even faster.
For detailed information, click on the corresponding link below under Related Articles.
---
​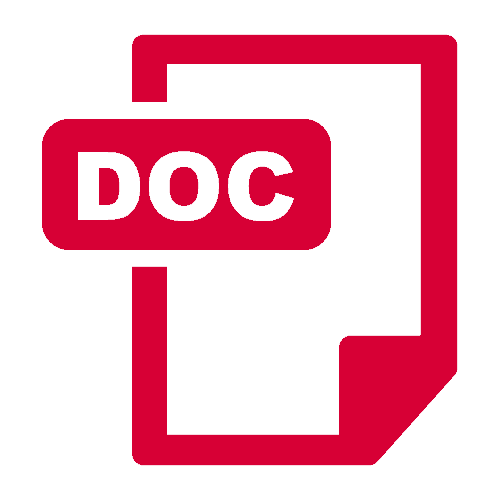 Download our themed Guides to learn how to manage your shop at lightning speed with Store Commander.
---