---
Store Commander's interface allows you to manage your combinations for all your stores with:

the 'Multistore Sharing Manager' panel within the combinations grid


the 'Multistore Combinations' panel located in the Properties column
Multistore - Sharing Manager - Combinations
This grid is accessible from the right-hand-side panel within the Combinations grid: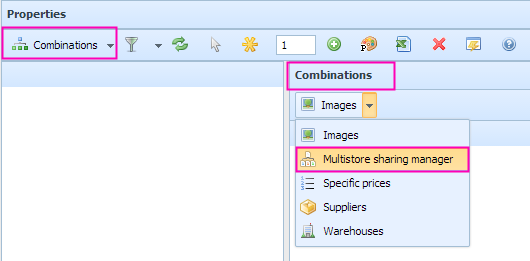 in this panel you can:

visualize the stores a combination exists in


enable/disable a combination in one or more shops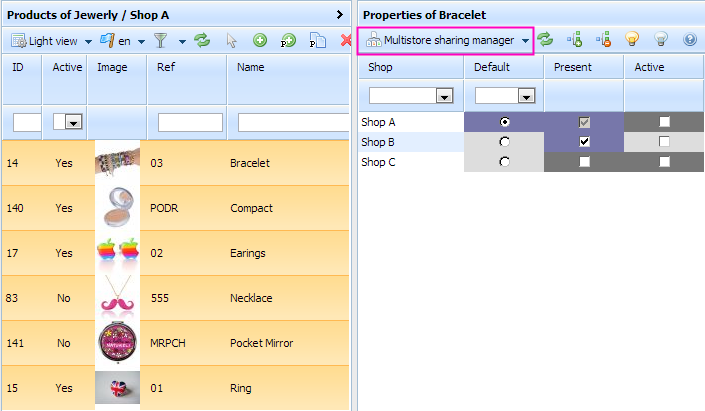 To display and modify multiple combinations of the same product, you simply need to select these combinations (on an orange background).
In the case of a multi-selection, a color code will be applied.

in the above example...
Dark grey: some of the selected combinations are present in Pamper your Home

Dark blue: all selected combinations use Lets Talk Fashion as default store ; all selected combinations are present in Lets Talk Fashion
Multistore : Combinations - Properties
This grid is accessible from the Properties column:


In this grid, you can:

visualize quickly the store(s) the combinations exist in


visualize and modify prices of each combination per store


visualize and modify quantities of each combination per store


apply modification in bulk using the copy/paste option in the pop-up menu

It is also possible to display combinations of multiple products simply by selecting these products in the central column.


To manage your combinations in multistore mode in bulk using Store Commander's CSV import tool, please refer to this article.
---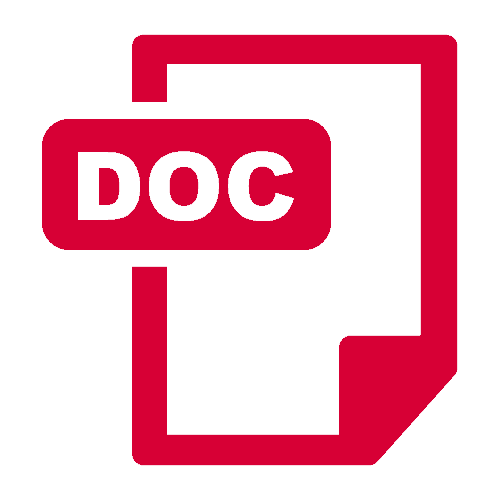 Download our themed Guides to learn how to manage your shop at lightning speed with Store Commander.
---