Customers Relationship Management
In this second article, we will see a series of actions to improve the way you manage the relationship you have with your customers visiting your online store.
1. The Customers Service interface
The Customer Service interface in Store Commander is located under the Customers menu, allowing you to manage the relationship with your customers better.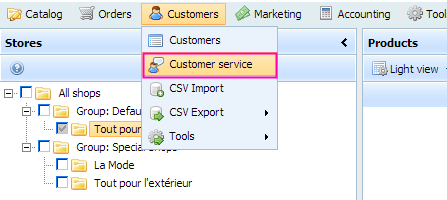 It includes all conversations between you and your customers. The main advantages are:
Having an interface on a single page, simple and easy to use 

Managing everything in just a few clicks on a single page, instead of 5 clicks to get to the customer's message in order to reply 

Filtering customers requests by status, language, related department...


This will enable you to reply quicker to your customers' requests, and therefore have more time to manage their requests!
2. Sorting customers by products purchased 
Store commander allows you sort your customers by products they have purchased. This option can be very useful in cases such as:
To find all your customers who purchased a specific product, select the product in the central panel.
Then choose Customers in the Properties panel. The list of all customers who purchased the selected item is then displayed.

You can use this list with the Quick Export option 

.
3. Sorting customers by language
When your online store is available in multiple languages, it is important to be able to sort your customers by their language, so that you can send them targeted promotional campaigns.
To export the list of your customers according to their language, open the Customers interface from the Customers menu. You will find in the central panel a column called 'Cart language' showing the language used by the customer to browse your site.
You can use the filtering tool to choose a specific language and then the Quick Export option

 to obtain the list on a spreadsheet.
You will then have various customers lists by language.
4. Sorting orders by payment status
It is important to communicate with your customers once they have placed an order, especially if there is a problem with the order.
You can send a customized email when a payment error occurred. 

You can notify a customer when the package leaves the warehouse.
To filter orders by their status, open the Orders interface from the Orders menu.
In the left hand-side column, you will find the Filters panel. It allows you to filter the orders by their payment status as well as period.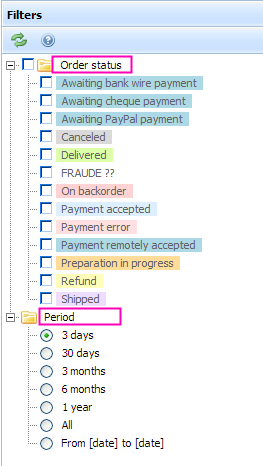 For instance, you can find all orders awaiting delivery in the last 3 days in order to inform the corresponding customers.
And of course, the export tool

 is always available for you to export the displayed list in a spreadsheet!
If you want to get deeper into this subject and the Customers Service part of Store Commander, then visit this page for more information.

In our next article, you will find advice on how to encourage customer loyalty with Store Commander!
Until then, you can read here our article on sales promotion with Store Commander.