Introduction
Our April issue unveiled the first part of this series dedicated to the synchronization of stocks between physical and online stores.
Last week again we have been sollicitated by several e-merchants yearning to achieve higher performances and more efficient ways to manage their physical and Prestashop stores whilst including accounting and sales management.
Today we have a very pragmatic case study to share with you. A Prestashop store that managed to integrate its online store with a physical store and Point of Sale software.

I Client/store history


Karine Bernasse, Store Commander: Hi Frederic. Can you please tell us a bit about your client before we dive into the actual case study?

Frédéric Bondyfalat, Synapsys Informatique: he owns 1 physical store and 1 Prestashop store on a 1.3.7.0 version, hence the need to synchronize stocks easily. He sells shoes mainly in the Hexagone.



II Before EBP/PS/SC integration


KB: How did your client manage his stores prior to the EBP + PS + SC integration?

FB: he updated his Prestashop stocks manually by taking the information contained in the EBP Point of Sale back office, at least twice a week…

KB: Did he have a stock management system in place?

FB: Stocks management was carried out exclusively through EBP Point of Sale (Fashion version).

KB: And how did he manage his clients files, prices, invoicing, products information?

FB: using EBP Point of Sale again.

III Rising needs

KB: Why did your client turn to you?

FB: He was very eager to stop wasting time with double stocks input...Also he wanted his Prestashop database to be updated more often so as to avoid potential mistakes i.e. a customer ordering an item that is not actually in stock anymore...

KB: Why did you turn to Store commander to solve part of the problematic at stake?

FB: We intended to develop a connector between EBP Point of Sale and Prestashop. Once the EBP engine was developped, we discovered Store Commander which is perfectly complimentary to Prestashop. We then completed our development by interfacing our client's Prestashop store with EBP and Store Commander.



IV Post-integration: how does it work in practice?

KB: Can you explain how it all works in practice?

FB : The tool we developped called PrestaSynchro scans the EBP products database at regular intervals and extracts products and characteristics that the user selected as "Internet sale" in the Back Office. Our tool bridges the gap by formatting this information and then sends it onto the server and finally launches Store Commander which takes care of updating the information into Prestashop.


KB: Do you use Store Commander to manage information flows between EBP and Prestashop?

FB: PrestaSynchro drives EBP  and Store Commander in order to update stocks in Prestashop. Here is a more visual illustration of the communications between the various players.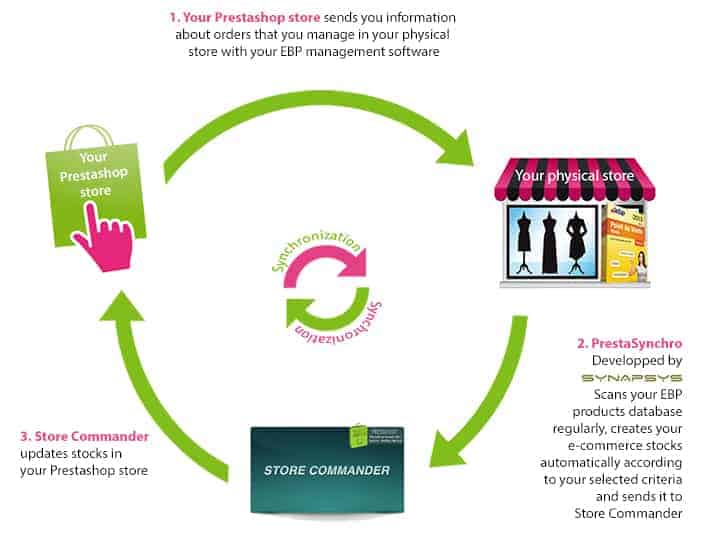 KB: From a concrets standpoint, what advantages did your client benefit from after this integration?
3 immediate and measurable advantages:


Saving a great deal of time,
A better control of his accounting process,
A better control over human errors.
As far as saving time is concerned, any merchant needs to at least update his physical and online stocks once a week,..This is at the very least. This drives you quickly insane as it can easily take 2 or 3 days per month! Our client was performing these manual tasks several times a week and then twice a week, which still took about 8 hours per month...
Today he does nothing anymore...and days previously spent updating his stocks manually are now down to...zero. Everything syncs automatically and a product is automatically deleted from Prestashop if it is no longer in stock.
On the accounting and invoicing fronts, invoice numbers are not following each other at all anymore if you have a dual system with the invoicing system of your physical store on the one hand and the Prestashop numbering system on the other hand. Your accountant will soon pull his hair and abandon you if he has to handle 2 systems.
Synchronizing stocks solves this major issue and allows to revert to a single invoice numbering system. You put a smile back onto your accountant's face and yours to boot!
Last but not least, all merchants' greatest fear in this situation is that a customer purchases a product which is in fact no longer in stock... Sadly this happens to often. Synchronizing stocks not only eliminates this major problem but also reduces significantly potential human errors due to inputting the same data twice, once within the physical store and once into Prestashop. At the end of it, merchants gain on all fronts: peace of mind, time saving and increased efficience.